Guys, I have a confession to make. When I was getting dressed, I knew I had to wear this dress today because it was warm and I need to cross it off my 30x30... except I got on this red kick and forgot to wear my nude shoes. This means... it's technically not a 30x30 outfit, but I'm going to include it anyway and bend the "rules" a bit. I'm just glad I'm halfway there. I might even be done before Kendi starts her next challenge.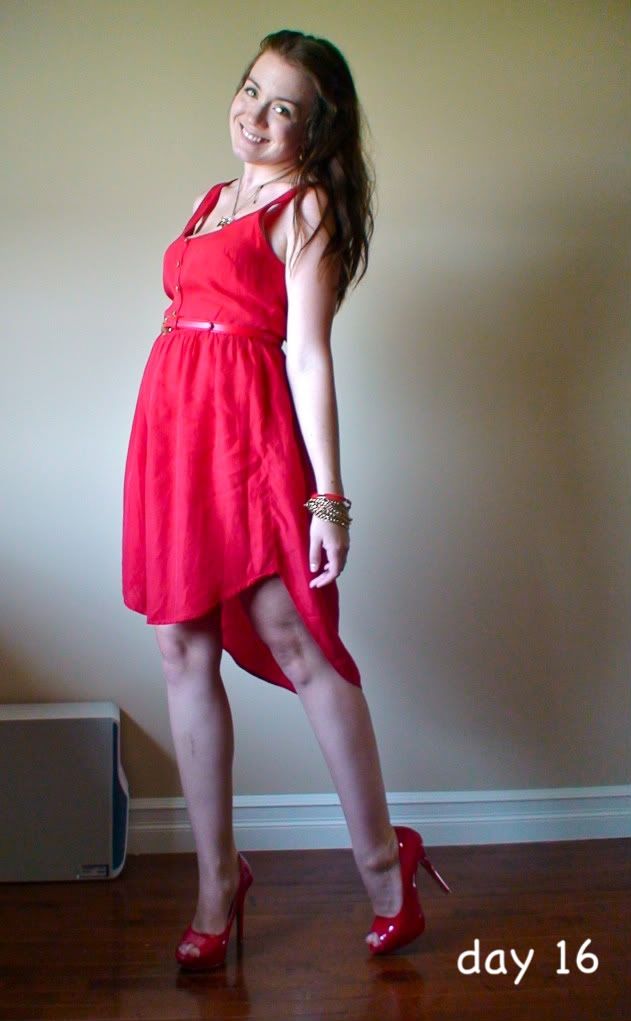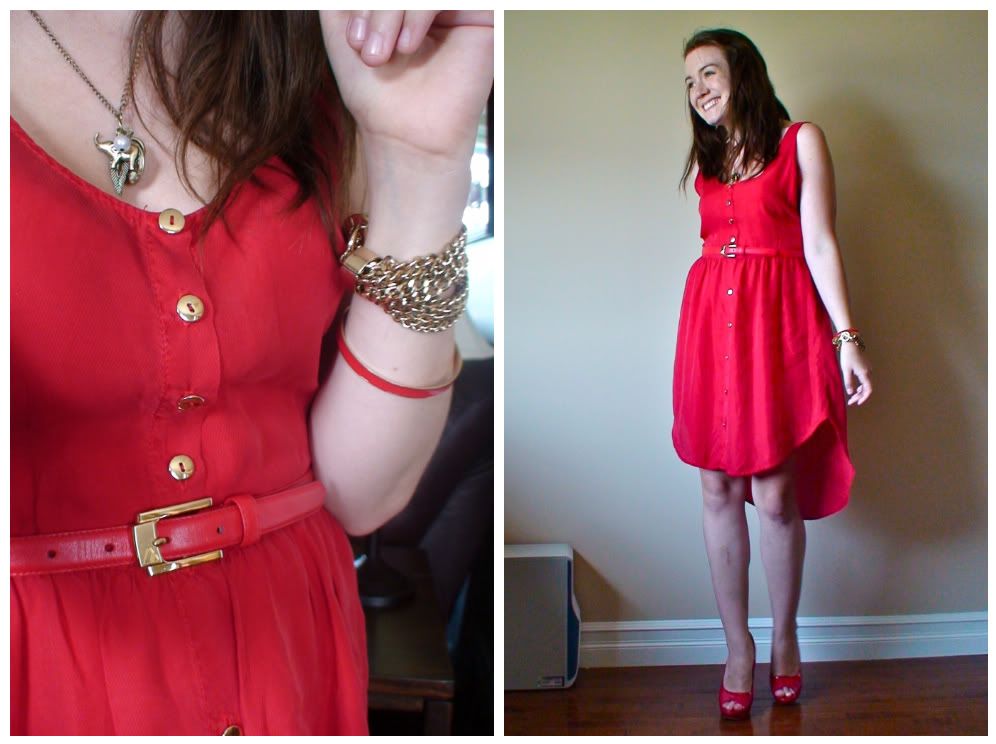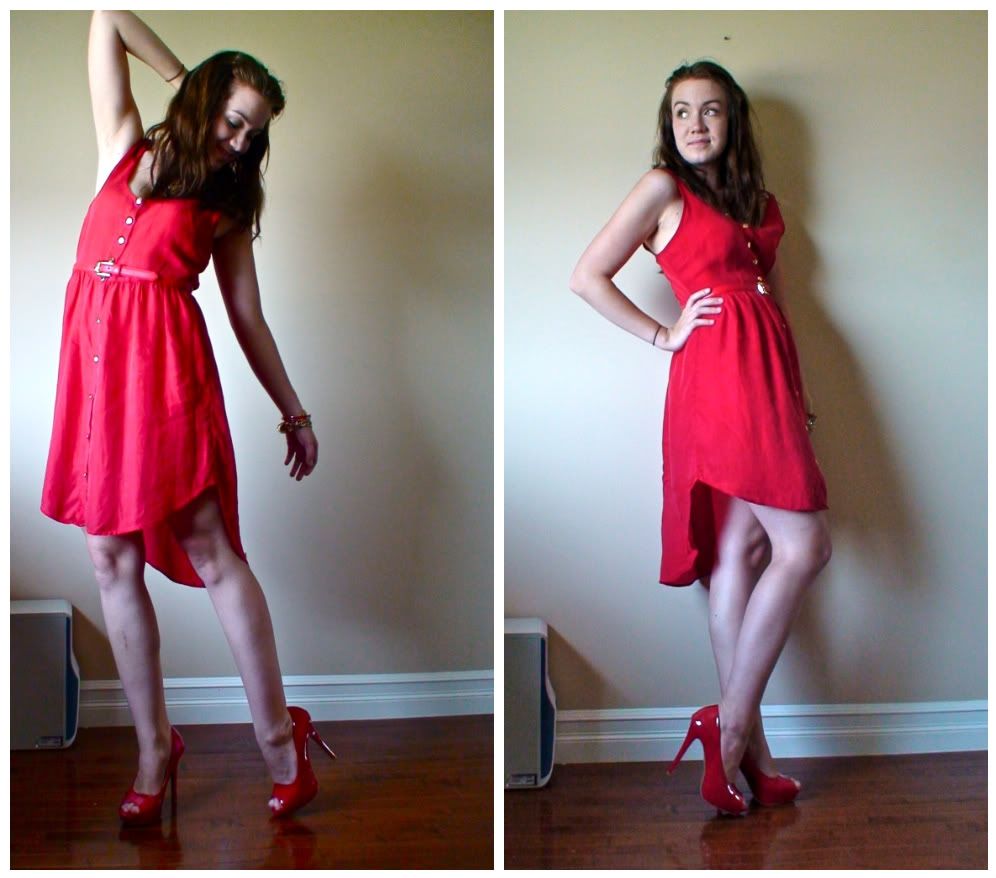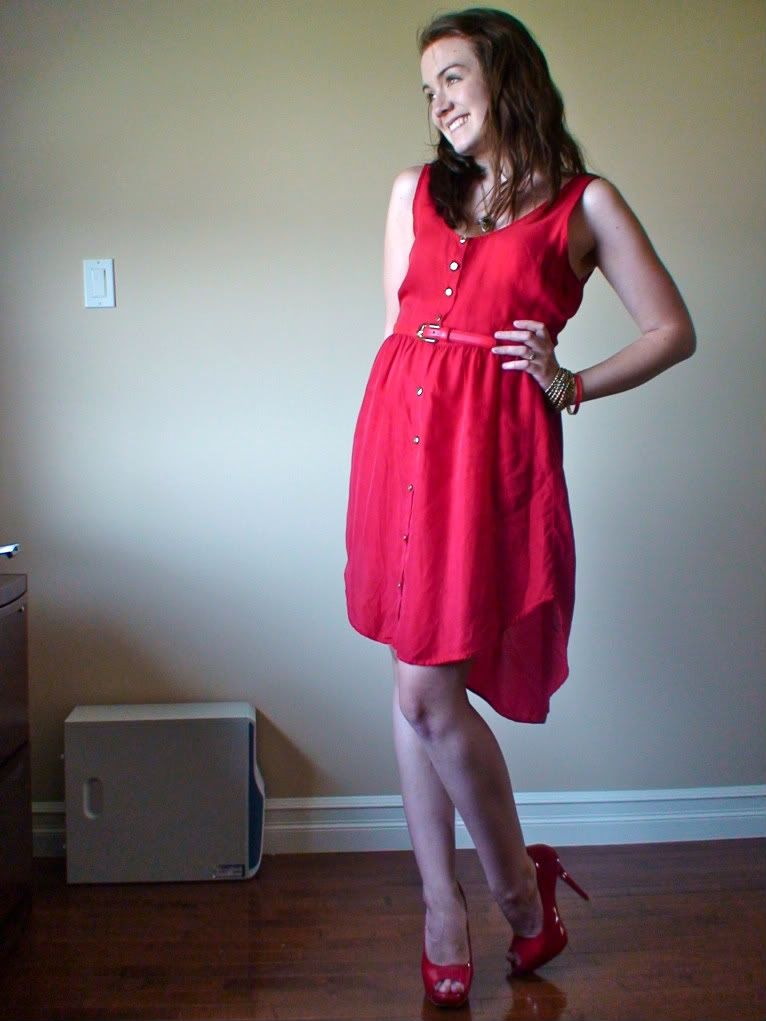 Outfit details:
(

wrinkly

) Walk the Talk red dress - LuLu*s (

I spent all day in it to learn it wrinkles easily and I'm petrified to iron this; it gives no instructions on the tag?

)
Leather belt - Garage sale
Shoes, chunky gold chain bracelet, red bangle - Forever 21
Elephant locket necklace - Smart Set
Earrings - Charlotte Russe
Hair - still rocking yesterday's do
Today was spent with family. There's nothing more I cherish than days spent with the ones I love. I spent time with my mother and father, went out to lunch with Jeff's mother and sister, and Jeff's dad brought me down supper. Spoiled, aren't I? I watched my daughter run around her Poppy's garden, following the fence with her hands, curious and independent (two wonderful words), swing on swings and enjoy huge belly laughs that make my heart melt. There's no greater love in the world than the love you have for your own. It's really different than anything you've ever felt prior to having children. Before her, I was completely content sitting by the ocean, coffee in hand, enjoying the solitude, lost in my thoughts. I'm a different person now; my idea of home and feeling complete is the feeling I have when I'm lying next to her. She curls up in a sweet little ball, draped over my waist, snoring like an ogre, smelling like lavender, and I doze off myself just because of how at home I feel. I love my man too. He ties everything together, makes me feel strong. I am my family. I have some friends who would kill me for saying that because of how dependent it sounds... but love really does that to you. I haven't lost myself. If anything, I have to say I'm more myself than I've ever been.
hope everyone had a happy relaxing Sunday,
Courtney